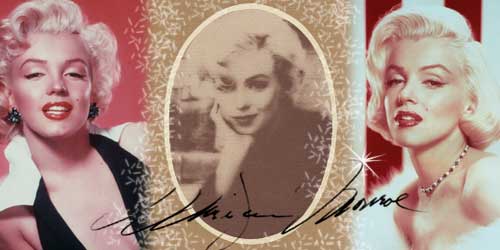 Authenticating Your Marilyn
by Bill White
Marilyn Monroe! Just the name itself conjures up thoughts of Hollywood days gone by. Marilyn, perhaps more than any other star, represents what Hollywood has come to symbolize. And to those who fondly remember her - even still worship her - her autograph is a highly desirable, surprisingly scarce memento.
Judging from the small number of authentic signatures on the market, Marilyn seems to have signed relatively few autographs. More likely, those who met her and obtained her autograph have held on to it as a cherished piece of their past. Still, the demand for Marilyn's autograph is very great, and the prices realized for her signature (in any form) are increasing rapidly. Barely a week ever passes without at least one request for "Anything on Marilyn?"
Of course, with the increasing demand for anyone's autograph comes the corresponding increased temptation for the forger. Marilyn has not excaped this fate. There are more forgeries of Marilyn banging on dealers' doors and settling into the collections of unwary collectors than almost any other movie star. The infamous studio and personal secretaries have also contributed several additional Marilyn "variations" to the autograph world. In a nutshell, much confusion swirls around which Marilyn signatures are authentic and which are not. Hopefully, what follows will help to clear up some of the mystery...
Contracts: Over the past few years quite a few Marilyn contracts have appeared for sale. The signatures shown below are from contracts dated 1951 to 1957. These signatures are reproduced, courtesy of Cordelia and Tom Platt. All combined, nearly a decade of Marilyn's life is represented, and certainly her years of greatest popularity. Observe not only the great consistency in the slant and formation of letters, but also the increasing sloppiness as her popularity grows.
(Note: All signatures in this article have been reduced 75 percent.)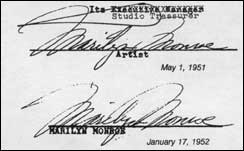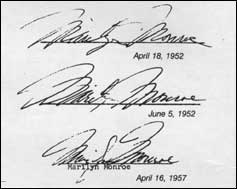 In-person signatures: While a contract may contain the most reliable example of an authentic signature, the signatures which were obtained in-person (on cards, photos, or autograph album pages) fall close behind. Signed album pages tend to exhibit the sloppiest form of a person's signature since they are usually signed in a hurry. Still, as any in-person collector knows the sloppiness is generally very consistent! Reproduced below are authentic signatures taken from items signed in-person in the 1950's. Take a minute to look them over for similarities...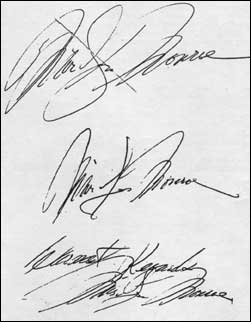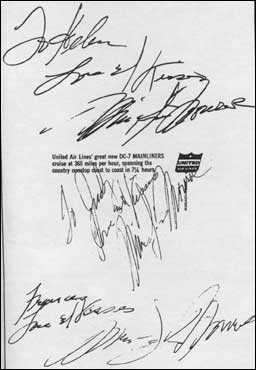 A few observations:
Notice the rapidity of all of the signatures, not only the album pages, but also the contracts of the same era. There is an overall "stringy" quality to her handwriting, with prominent, overly large capital letters and a hint of illegibility.
In every case (except the airline postcard) "Marilyn" is broken into two parts: "Mar" and "ilyn." The "ily" in "ilyn" is quickly and poorly formed, and generally appears like a figure "8" or an elongated script "S." These characteristics also appear on the later contracts.
Every example has a dot over the "i" in "Marilyn."
"Monroe" is the more legible half of her name, and the final "e" is usually very obvious.
"M-a" in "Marilyn" and "M-o" in "Monroe" are always connected, with a sharp angle where each "M" joins its following letter.
Finally, note the similarities of the formation of "To" in each inscription. Beware uninscribed Marilyn signatures, particularly on photographs. Apparently she rarely signed photos for people other than friends, associates, and co-workers.
Some well-spent time studying the previous examples should, I hope, shed some evidence on the assertion that Marilyn's signature should "look" a certain way.
Secretaries and Forgers: It isn't my intention to catalog all secretarial examples of Marilyn's signature. Instead, I've reproduced what has certainly proven to be the most widespread secretarial example of her signature. The following examples of this secretarial were taken from signed photographs of the same era as the authentic examples above.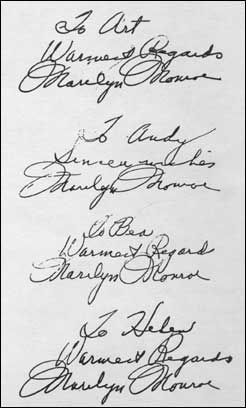 Notice the relatively careful slowness of each signature...the missing unique formation of "ily" and the lack of a dot over the "i" in "Marilyn"...the smoothness with each "M" joins its following letter... the uniform, less slanted, more legible character of the handwriting. These were certainly not signed by Marilyn, but by a secretary with some talent who has satisfied thousands of thirsty autograph collectors. The next example is also secretarial, and commonly seen on vintage photographs. Following it is another secretarial (from 1952), and then a rather curious example, also from a photograph, which could be a forgery or an ill-attempted secretarial.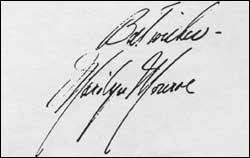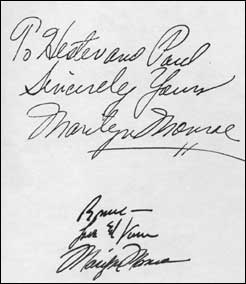 Finally, an excellently executed fabrication, more than likely a forgery. This example has a great deal going for it, but breaks down primarily because of its lack of slant, its legibility, the loop in the first "o" of "Monroe" (which Marilyn never made), and the unnatural break between "l" and "y" in "Marilyn." Also, "Marilyn" and "Monore" appear on two different lines, while she seems to have always signed her entire name on the same line.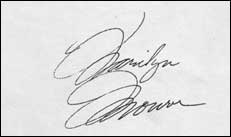 I hope this article sheds some small amount of light on the autograph dilemma surrounding Marilyn Monroe. With the ongoing demand and ever-rising prices, Marilyn's autograph is surely heading for new heights.
Don't miss these other authentication articles:
A Closer Look at Ronald Reagan
Solving the Frank Sinatra Dilemma
A Collector's Guide to Elvis