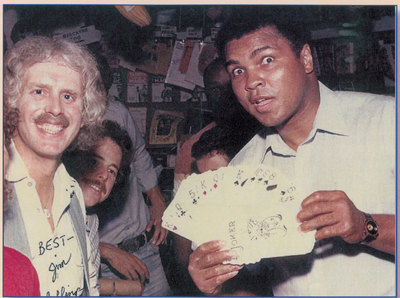 Numismatics dominated Collings's teenage collecting years, but as the change piles broadened, so did his interests. In the 1950s he immersed himself in Chicago's rich jazz and blues landscape. In doing so, he formed friendships with—and obtained autographs from—a variety of blues legends, including Muddy Waters and Howlin' Wolf. These in-person encounters escalated Collings's hobby into full-time work. To fund his expanding collection in the 1960s, Collings taught Chicago's underprivileged elementary students. At this time, James also opened his first collectible store, The Penny Pouch. Merging his curio and educational passions, James hit his professional stride. He was ready to expand. When he moved to Miami in the mid-1970s, James was still teaching and collecting everything that piqued his vast array of interests—from dolls and toy trains to nickelodeons and coin-operated jukeboxes. Ensconced in his new surroundings, Collings opened another collectibles store—The Biscayne Joke and Magic Shop—a business venture highlighted by drop-ins from the cast of Miami Vice and the great Muhammad Ali [pictured here with James].
Later, as a retired schoolteacher in Brevard, North Carolina, Collings met Merlyn, his future wife of 17 years; they connected at a local 12-step program and were married within the year. James's organically obsessive personality strengthened his collecting endeavours and Merlyn seamlessly embraced her husband's insatiable lifestyle. They were a team, steadily building the Collings collection in their spare time.
James continued to educate by showing off their 34 collections—each impeccably displayed throughout Collings's three-story Victorian. Although legally blind, James was considered an expert in many collecting genres, including: jukeboxes, scales, dolls, clocks, watches, and autographs. He and his wife, Merlyn, even authored a book, "Character and Novelty Clocks and Watches, Identifications and Values." From James's amazing magician showcase and Hollywood photographs, to his assemblage of scarce Shirley Temple posters and the world-class items found in the Ed Wood and Jimmie Rodgers wing, the range of the Collings 'museum' was a true testament to its late architect.
James Collings was of a generation that curated their collections the old fashioned way—writing letters, making phone calls, taking road trips—methods that were as time-consuming as they were satisfying. A consummate completionist, Jimmy, who passed away on December 30, 2012 at the age of 77, saw things through to the end. And so, it is with great pride that RR Auction and his beloved wife, Merlyn, present the Collings collection: an achievement over 60 years in the making.