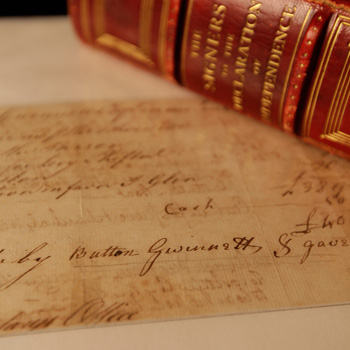 Live Event: American Revolutionary War Collection of Richard Newell December 15 in Nashua, NH
---
Featuring a complete set of all 56 men who signed the Declaration of Independence
Live Auction: December 15th • 1 PM EST The live auction will be held at The Crowne Plaza Hotel in Nashua, NH.

Preview: December 10th-14th • 9 AM - 5 PM EST Schedule an appointment for viewing at our office. 5 Route 101A, Suite 5 Amherst, NH.

Absentee Bidding: December 15th • 10 AM - 1 PM EST Auction day preview will be held at The Crowne Plaza Hotel in Nashua, NH.

RR Auction is proud to present the Proctor–Sang–Newell Collection of Signers of the Declaration of Independence. A complete set of all 56 men who signed this historic document, this collection represents the ultimate accomplishment in American autograph collecting. Of the precious few complete collections of Signers known to exist, this set is one of the finest quality sets ever offered. Most of the examples are substantial-length letters, many of which feature significant historical content by some of the nation's most important Founding Fathers.

The centerpiece of any complete set of Signers is the rarest of them all, the autograph of Button Gwinnett. According to the most recent published census, only 51 examples of his hand are known to exist—and only eleven remain in private hands.* The Proctor-Sang-Newell Collection features a superb example: a historic 1773 document signed by the Georgia Signer at an important moment in his life. The Gwinnett complemented by other rare and uncommon Signers including Thomas Lynch, Jr. and Arthur Middleton (South Carolina), Joseph Hewes and John Penn (North Carolina), Thomas Nelson, Jr. (Virginia), George Taylor (Pennsylvania), and Lyman Hall (Georgia). It is the enormous scarcity of these signatures that make collecting all 56 Signers a near impossible feat.

These great rarities are accompanied by numerous extraordinary-content letters by some of the most important Founding Fathers written at key moments in American history. John Adams announces the arrival of Rochambeau's army in America in a 1780 letter from Paris to Gen. Nathanael Greene and adds, "America is the City, Set upon a Hill." Adams' longtime friend (and rival) Thomas Jefferson is featured as well in a 1781 letter (also to Greene) promising reinforcements that would battle General Cornwallis—and help set the stage for Yorktown. A superb letter by Benjamin Franklin, written in July 1785, bids farewell to a long-time friend and fellow scientist only a week before he departed France for his triumphant (and final) return to Philadelphia. In August 1777, Samuel Chase of Maryland warns of the British Fleet en route to capture the American capital at Philadelphia. New Jersey Signer Abraham Clark voices his misgivings on the new federal constitution on the eve of George Washington's 1789 inauguration as America's first president and derides Alexander Hamilton as "a Shim Sham politician." Robert Treat Paine of Massachusetts reports on his investigation of the 1777 "Secret Expedition" against Rhode Island. John Hancock, during his first term as Governor of Massachusetts in 1783, urges New Hampshire to ratify a historic conservation agreement to preserve the fish stock on the Merrimack River.

The Proctor-Sang-Newell Collection features many other historic content letters from such luminaries as Samuel Adams (Massachusetts), Richard Henry Lee (Virginia), Francis Lightfoot Lee (Virginia), John Witherspoon (New Jersey), Robert Morris (Pennsylvania), Robert Treat Paine (Massachusetts), Lewis Morris (New York), George Clymer (Maryland), Lyman Hall (Georgia), Benjamin Harrison (Virginia), Samuel Huntington (Connecticut), Thomas McKean (Pennsylvania), Benjamin Rush (Pennsylvania), William Williams (Connecticut), and Oliver Wolcott (Connecticut).

In terms of condition and aesthetics, many of the examples are of a particularly high quality. Unlike many extant collections of Signers which consist of clipped signatures and signed documents, this assemblage features 48 autograph letters signed, 22 of which were accomplished during the Revolutionary War with an additional five that date between The Boston Tea Party (December 17, 1773) and the outbreak of hostilities in April 1775. Indeed, the last collection of Signers that contained as many autograph letters signed as the present group was offered in 1967.

The collection was first assembled by the noted collector Thomas R. Proctor (1884–1920) of Utica, New York. Proctor, as evidenced by the contents of this incredible holding, was an extremely sophisticated collector who not only venerated the Founding Fathers and their sacrifices for American independence, but had a deep and nuanced understanding of the history of the American Revolution. To enhance presentation, Proctor laid each piece into a larger sheet and the set bound by Bradstreets in elaborately gilt scarlet morocco, with gilt-tooled morocco doublures with the names of the thirteen colonies housed within laurel wreathes.

Sometime after Proctor completed his collection in 1905, it was acquired by another great American collector, Philip D. Sang (1902–1975)–one of three complete sets he owned over his lifetime. In 2002, Richard Newell purchased the collection in a private sale. A graduate of the United States Military Academy at West Point and Vietnam veteran, he is an avid student of military history. His acquisitions of significant books, manuscripts, and philately over the past several decades have focused on key moments in America's military conflicts with an astute appreciation for the underlying social and economic issues behind those struggles. At the time of his purchase of the present set, Newell had already acquired two partial collections of Signers. The first was purchased in the mid 1990s from the estate of Kenneth Laurence, which included 55 of the original 56 (excluding Gwinnett). He bought a second partial set of 42 at a New York auction in 2000.

Although Proctor had completed his collection in 1905, he had intended always to improve upon it, adding a page of blank entries to the original index to the volume for future owners to record their additions. To facilitate this, he only loosely bound the laid in page leaves bearing the autographs into the volume. Eager to fulfill Proctor's original intent for the collection, Newell began acquiring finer quality examples of Signers that were only represented by routine signed documents and letters. Over the past decade, Newell managed to acquire a superb war-dated letter by the rare Signer Arthur Middleton in which he compliments John Hancock. He also purchased a letter by Matthew Thornton to the New Hampshire Committee of Safety asking someone to represent him at an important October 1775 meeting with Benjamin Franklin and George Washington. He also found an incredible–content letter by Robert Morris writing at the end of 1776 in which he acts as agent for the Continental Congress that had fled to Baltimore fearing a British attack on Philadelphia. Newell also remedied an error by made by Sang's descendants when they removed the two examples accomplished by Philip Livingston Jr., from Proctor's original set that left only an example by his father, Philip Livingston Sr.† Newell added an autograph letter of Phillip Jr. that had been part of the Kenneth Laurence collection of Signers to once again complete the set.

The auction also features excellent content letters from other key actors in the American Revolution who did not add their name to the Declaration of Independence. Of tremendous interest is a letter written by Benedict Arnold to his sister a week before his treasonous plot to turn over West Point to the British was uncovered. George Washington is also represented in a fine 1782 letter discussing a location for a new powder magazine built at West Point. Other important American generals are represented including Nathanael Greene and Friedrich Von Steuben, as well as some of the most significant British commanders: William Howe, John Burgoyne and Charles Cornwallis. The Burgoyne letter is especially intriguing as he writes concerning his return home to England after his surrender at Saratoga.

This is a rare opportunity to acquire a complete set of the Signers of the Declaration of Independence, one of only forty collections known to exist. It is believed that together with the additions made by Richard Newell, this will be the largest offering of individual Signers in the past fifty years. We hope that you will enjoy the catalog and the opportunity to add to your collection and to protect and preserve these items for future generations.

__________
*See Ryan Speer, "Button Gwinnett Signatures: A Census," Manuscripts, Vo 60, No. 4 (2008), 273–294.

† A. common mistake made by collectors as noted by Charles Hamilton in the early 1980s. See American Autographs (1983), Vol. 1, 90-91.